Táto príručka je určená pre volume produkty Office, ako je Office 2013 Standard a Office 2013 Professional Plus.
Pred inštaláciou softvéru sa uistite, že:
váš počítač spĺňa systémové požiadavky balíka Office 2013,
váš operačný systém má nainštalované najnovšie aktualizácie systému Windows,
v počítači nie sú nainštalované nasledujúce Office produkty (pokiaľ áno, odinštalujte ich):
Office Home and Student, Office Home and Business, Office Professional, Microsoft 365 desktop apps, My Office.
Sprievodca krok za krokom
Prejdite na onesam.eu a prihláste sa pomocou svojho e-mailu a čísla objednávky.
Kliknite na svoj produkt Office v ponuke na ľavej strane a vyberte bitovú verziu:

32bitová verzia – odporúčaná pre staršie zariadenia a systémy.
64bitová verzia – odporúčaná pre optimálny výkon na nových systémoch.

V rozbaľovacej ponuke pod možnosťami bitovej verzie vyberte jazykovú verziu vašeho balíka Office.
Stiahnite si súbor ISO, otvorte ho a spustite súbor setup.exe.
Pokiaľ sa vám zobrazí malé okno s otázkou, či chcete aplikácii povoliť prevádzať zmeny vo vašom zariadení – kliknite na "Áno" ("Yes").
Potom odsúhlaste podmienky služby a pokračujte kliknutím na tlačidlo "Inštalovať teraz" ("Install Now").
Počkajte na dokončenie inštalácie.
Office je kompletne nainštalovaný, keď sa zobrazí toto okno: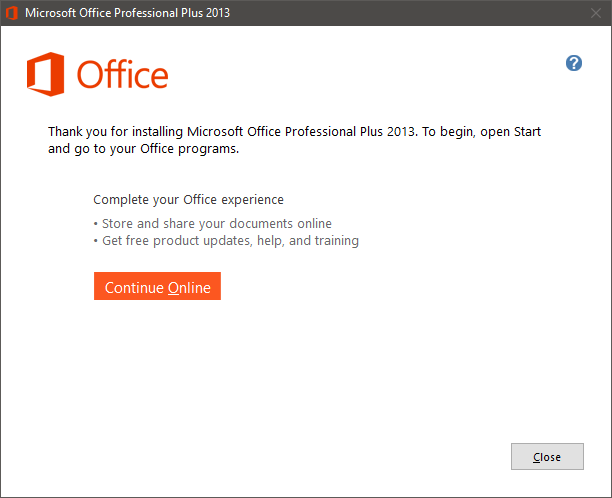 Kliknite na tlačidlo "Zavrieť" ("Close") a pokračujte v aktivácii produktu (prejdite na záložku Aktivácia, kde nájdete pokyny).
Sprievodca krok za krokom
Potom, čo je váš Office 2013 úspešne nainštalovaný, je treba ho po dokončení procesu aktivovať.
Spustite ľubovolnú aplikáciu Office 2013, napríklad Word.
Otvorte prázdny dokument.
Prejdite do ponuky "Súbor" ("File") → "Účet" ("Account") a v žltom poli kliknite na "Zmeniť kód Product Key" ("Change Product Key").


Zadajte svoj produktový kľúč do vyskakovacieho okna a chvíľku počkajte, pokiaľ sa neaktivuje tlačidlo "Inštalovať" ("Install") – kliknutím naň svoj produkt aktivujete a môžete ho začať okamžite používať.