Táto príručka je určená pre volume produkty Office, ako je Office LTSC Standard 2021 a Office LTSC Professional Plus 2021.
Pred inštaláciou softvéru sa uistite, že:
váš počítač spĺňa systémové požiadavky pre Office 2021,
váš operačný systém má nainštalované najnovšie aktualizácie systému Windows,
v počítači nie sú nainštalované nasledujúce Office produkty (pokiaľ áno, odinštalujte ich):
Office Home and Student, Office Home and Business, Office Professional, Microsoft 365 desktop apps, My Office.
Sprievodca krok za krokom
Prejdite na onesam.eu a prihláste sa svojim e-mailom a číslom objednávky.
Stiahnite si a spustite našu aplikáciu Office 2021 Volume Installer.exe.
Môže sa zobraziť nasledujúce upozornenie:


Táto správa sa objavuje, pretože aplikácia je úplne nová a ešte nezískala status "Dôveryhodná" v bezpečnostných systémoch Windows. Kliknite na "Ďalšie informácie" ("More info") a vyberte možnosť Napriek tomu spustiť ("Run anyway").
Po otvorení vyzerá inštalačný program Office 2021 Volume Installer takto:


V rozbaľovacom zozname "Product" vyberte produkt, ktorý ste si u nás zakúpili.
V poli "Components" môžete odškrtnutím zabrániť inštalácii tých aplikácií Office, ktoré neplánujete používať.
V rozbaľovacom zozname "Platform" vyberte typ architektúry pre váš produkt: 32-bit alebo 64-bit.
Najlepšou voľbou spravidla býva možnosť 64-bit – vďaka tomu bude váš produkt fungovať lepšie na moderných operačných systémoch a zariadeniach.
V rozbaľovacom zozname "Language" vyberte, v akom jazyku chcete svoj produkt nainštalovať.

Po dokončení prispôsobenia inštalácie, kliknite na "Download & Install".
Teraz už len počkajte, kým bude váš produkt nainštalovaný. Zelený indikátor priebehu inštalácie v aplikácii sa niekoľkokrát zaplní a objaví sa niekoľko ďalších okien – to je normálne a je to súčasť procesu.
Nezatvárajte Installer ani ďalšie zobrazené okná, lebo sa inštalácia preruší!
Balík Office je kompletne nainštalovaný, keď sa zobrazí toto okno: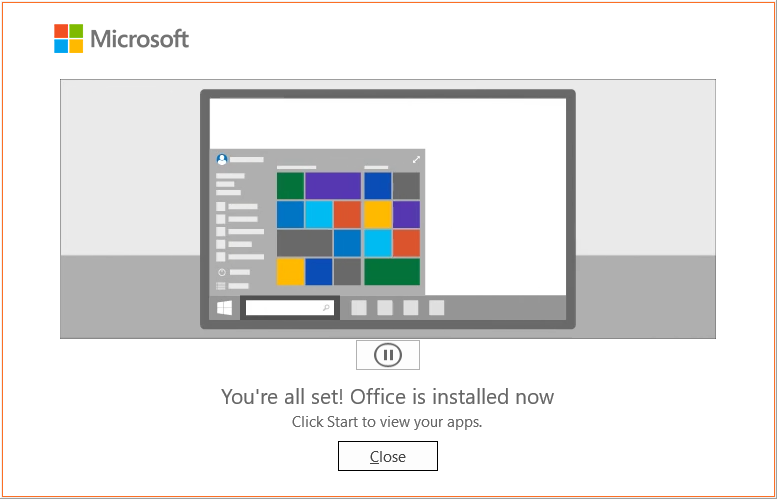 Teraz môžete aplikáciu Installer zatvoriť a pokračovať v aktivácii produktu (prejdite na kartu Aktivácia, kde nájdete ďalšie pokyny).
Sprievodca krok za krokom
Potom, čo je váš Office 2021 úspešne nainštalovaný, je treba ho pre dokončenie aktivovať.
Spustite ľubovolnú aplikáciu Office 2021, napríklad Word.
Otvorte prázdny dokument.
Prejdite do ponuky "Súbor" ("File") → "Účet" ("Account") a v žltom poli kliknite na "Zmeniť kód Product Key" ("Change Product Key").


Zadajte svoj produktový kľúč do vyskakovacieho okna a chvíľku počkajte, pokiaľ sa neobjaví tlačidlo "Aktivovať Office" ("Activate Office") – kliknutím naň svoj produkt aktivujete a môžete ho začať okamžite používať.